---
Strauss Management
David Friedrich Strauss / Strauß was a theologian who denied the divinity of Jesus Christ in his book, The Life of Jesus, Critically Examined. Critics from his time and ours refute his statements in the following works. Now you can cure your "Chronic Strauss Fatigue Syndrome"!
---
Beard, J. R. (John Relly)
(1800-1876)
British minister, proponent of Unitarianism. Read about Beard here.
WORKS
Voices of the church, in reply to Dr. D.F. Strauss, author of Das Leben Jesu, comprising essays in defence of Christianity. London: Simpkin, Marshall; New York: Wiley & Putnam [distributor], 1845. xiv, 437 pp.; 24 cm. Contents: Strauss, Hegel, and their opinions / [by J.R. Beard] -- Quinet on Strauss's "Life of Jesus" -- Reply to Dr. Strauss's book, "The life of Jesus" / by Athanase Coquerel -- The credibility of the evangelical history illustrated, with reference to the "Leben Jesu" of Dr. Strauss / from the German of A. Tholuck -- The theory of myths in its application to the Gospel history / examined and confuted by Julius Müller -- Illustrations of the credibility of the Gospel narratives, drawn from moral considerations / [by J.R. Beard] -- The fallacy of the mythical theory of Dr. Strauss, illustrated from the history of Martin Luther, and from actual Mohammedan myths of the life of Jesus / [by J.F. Wurm] -- Extracts from Neander's "Leben Jesu." Notes: Essays translated from French and German./ Essays also paged separately.
---
Bruce, Alexander Balmain
(1831-1899)
<!IMG SRC=".jpg" HEIGHT=100>
WORKS
The Miraculous element in the Gospels. London: Hodder and Stoughton, 1899. 4th edition. 391 pp.; 23 cm.
(TM): This late 19th century work by a prominent scholar provides a careful statement and defense of the supernaturalist position. Bruce frequently addresses the arguments of Strauss and Renan, Schleiermacher and Lessing, and provides both a critique of their positions and a defense of the orthodox position against their objections. With Westcott's Gospel of the Resurrection, it is a useful supplement to the older work of writers like Paley and Chalmers since Bruce is able to take full account of work that became prominent only in the 19th century.
---
Butler, Samuel
(1835-1902)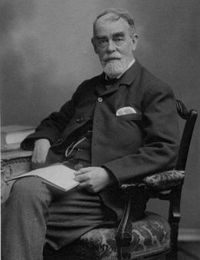 New Zealand novelist. Read about Butler here and here.
WORKS
With R. A. (Richard Alexander) Streatfeild (1866-1919). The Fair Haven; A Work in defence of the miraculous element in Our Lord's ministry upon earth, both as against rationalistic impugners and certain orthodox defenders. Second edition. London, Trübner, 1873. xxiii, 258 pp. port. 24 cm. Also here. Project Gutenberg edition.
---
Cairns, John
(1818-1892)
<!IMG SRC="" HEIGHT=100>
Scottish Presbyterian divine. Read about Cairns here.
WORKS
---
Coquerel, Athanase Laurent Charles
(1795-1868)
<!IMG SRC="" HEIGHT=100>
French Protestant divine. Read about Coquerel here.
WORKS
---
Dobbin, Orlando T. (Orlando Thomas)

(1807-1890)

<!IMG SRC="" HEIGHT=100>

LL.D., Trinity College, Dublin.

WORKS
Tentamen anti-Straussianum, the antiquity of the Gospels asserted, on philological grounds, in refutation of the mythic scheme of Dr. David Frederick Strauss. London: Ward; New York: Wiley & Putnam, 1845. xvii, 113 pp.; 21 cm.

The Presbyterian Review and Religious Journal. Review. "Dr. Dobbin takes good care to let us know that he thinks his argument an important one. And so it is. But he is long of coming to the point. He wearies our patience a little at the outset, and keeps us in suspense for nearly the first third of the book, introducing his subject rather circuitously, and with too many words. Nevertheless the work is really a vigorous and learned one. We got so interested in it that we never rose from our seat till we had finished its 114 octavo pages. Both the scholar and the logician will appreciate it."
The Church of England Quarterly Review. 1846. Review: "This very clever argument ought to be in the hands of every one who is interested in the defence of Revelation, and who feels that an attack upon the authenticity of the Gospels must, if not steadily met, lead to a repudiation of the word of God at no very distant period. It is based upon a principle, which it would be well if others would recollect, that the sacred books of the Christians, when assailed, will be found sufficient for their own defence; and that, as new methods of attack are contrived by those who impugn them, even from those books will new methods of repulsion appear." ...
Allan Freer. The North British Review.
---
Fischer, Karl Phil (Karl Philipp)
(1807-1885)
<!IMG SRC="" HEIGHT=100>
Read about Fischer in the Deutsche Biographie, in German.
WORKS
<!A HREF="">[Anti-Strauss: A Collection of pamphlets]. 1841. 6 pamphlets; 20 cm. In German. [1-2]. Die speculative Dogmatik von Dr. David Friedr. Strauss / gepruft von Karl Phil. Fischer 2v. (Tübingen: L.F. Fues, 1841) -- [3]. Die moderne Wissenschaft des Dr. Strauss und der Glaube unserer Kirche / von K.A. Kahnis (Berlin: Ludwig Oehmigke, 1842) -- [4]. Zur Beurtheilung der christlichen Glaubenslehre des Dr. Strauss / von August Boden (Frankfurt am Main : J.D. Sauerländer, 1842) -- [5]. Kritik der Principien der Strauss'schen Glaubenslehre / von Karl Rosenkranz (Leipzig: Gustav Braun, 1845) -- [6]. De la personalite de Dieu et de l'immortalite de l'ame / par Gros, Dr. (Berlin: Asher & Co., 1841). OCLC: 11480960
---
Holding, James Patrick
President, Tekton Apologetics Ministries. Read more about Holding here.
WORKS
---
Kratander
<!IMG SRC="http://www.classicapologetics.com/h/.jpg" HEIGHT=100>
WORKS
---
Macpherson, Robert
(1806-1867)
<!IMG SRC="" HEIGHT=100>
WORKS
The Resurrection of Jesus Christ with an examination of the speculations of Strauss in his 'New life of Jesus' and an introductory view of the present position of theological inquiry in reference to the existence of God and the miraculous evidence of Christianity. Edinburgh: William Blackwood, 1867. xlii, 467 pp.; 21 cm.
---
Quinet, Edgar
(1803-1875)
French historian. Read about Quinet here.
WORKS
With Athanase Coquerel. A Reply to Strauss's Life of Jesus. London: Simpkin, Marshall, 1844. 66 pp.; 22 cm. From the French of Prof. Quinet and A. Coquerel. Extract from Voices of the Church, 1845, edited by J. R. Beard, with preface.
---
Schaff, Philip
(1819-1893)
American theologian and church historian. Read about Schaff here.
WORKS
The Person of Christ: The Perfection of His humanity viewed as a proof of His divinity. With a collection of impartial testimonies to the character of Jesus. New York: Charles Scribner's Sons, 1881. 285 pp.
The Person of Christ: the miracle of history. With a reply to Strauss and Renan, and a collection of testimonies of unbelievers. New York; C. Scribner & co., 1866. 375 pp. Also here. Text-searchable. Contents: The person of Christ. The childhood and youth of Jesus; His training; His public life; His freedom from sin; His absolute holiness; Unity of virtue and piety; Completeness and universality of his character; Harmony of all graces and virtues; His Passion and crucifixion; Summary: Christ's character the greatest moral miracle of history; Christ's own testimony concerning himself; Examination of the false theories -- Collection of testimonies of unbelievers. Pontius Pilate and his wife; The centurion at the cross; Judas the traitor; Flavius Josephus; The Talmud; The heathen writers against Christianity; Tacitus and Pliny; Celsus and Lucian; Porphyry; Julian the Apostate; Thomas Chubb; Denis Diderot; Jean Jacques Rousseau; Napoleon Bonaparte; William Ellery Channing; David Frederick Strauss; Theodore Parker; F. Pecaut; E. Renan; Frances Power Cobbe.
---
Smith, George Vance
(1816?-1902)
<!IMG SRC="" HEIGHT=100>
Unitarian minister.
WORKS
---
Tafel, J. F. I. (Johann Friedrich Immanuel)
(1796-1863)
<!IMG SRC="" HEIGHT=100>
Swedenborgischer theologian, philosopher and librarian. Read about Tafel here. In German.
WORKS
The Life of Jesus: from the Gospel record, vindicated and defended against the attacks of Dr. Strauss, and of infidelity in general. Chicago: E.B. Myers and Chandler, 1868. xiv, 287 pp.; 18 cm. From the German of the late Dr. I.F. Immanuel Tafel. OCLC: 12923631
---
Return to the Main Page